1972 Kawasaki F-6
(The brand new 40 year old motorcycle)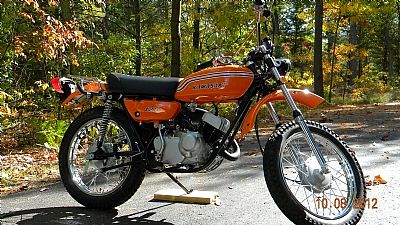 The following is Chuck Floyd's testimony.
This Kawasaki F-6 build was very special to me for it represents the first brand new motorcycle I ever bought way back in 1972. But rather than restore an existing F-6, I decided to essentially build a brand new bike…one that never existed before. As such it was built from the ground up with 93.6% NOS and 4.5% new OEM parts. Less than 2% of over 1,400 parts purchased were restored or reproduction pieces.
When it came to the paint I wanted it just right and as close to original as possible. While all of the sheet metal other than the fuel tank was NOS,I wanted to paint it all to ensure a perfect match while replicating the oddities of the factory painting including the overspray on the underside of the rear fender and an assembly line marking.
After talking with numerous painters that specialize in bikes I settled on Precision Motorcycle Painting because Craig made me feel comfortable that he would do the job as I desired…and that he did. The paint turned out beautiful, the decals aligned perfectly, and yes, even that overspray with the factory marking was fantastic. Equally important Craig communicated with me throughout the process which was very much appreciated.
For these reasons and more I give Precision Motorcycle Painting my highest recommendation. They are already working on another bike for me.