Motorcycle Restoration and Painting Services
We provide motorcycle collision repair, reverse decals and logos, pin striping, fiberglass repair and sandblasting for any type of classic motorcycle. We also have a great new product that can seal your tank by creating a tank within a tank. Whatever your needs, Precision Motorcycle Painting is your complete repair and refurbishment specialist.
When we receive a motorcycle in for repair, we start by taking extensive photos and researching the manufacturer's original specifications. Next we strip the paint, if necessary, by using various media. We fix any dents or dings, and then prime, paint and clear, wet sand and clear, wet sand, clear and buff the paint to a mirror finish.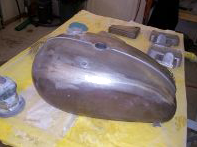 Restoration Preparation
We believe that careful, skilled preparation is one of the keys to an outstanding paint job. When we receive a classic motorcycle for restoration, we prepare all surfaces thoroughly using the appropriate stripping method and necessary body work to remove dings and dents.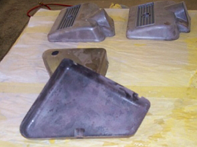 Prepping Parts For Paint
Getting parts ready is often time consuming, but there are no short cuts. We take as much time as necessary to get the surface perfect so that we end up with a perfect result.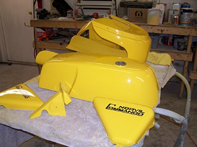 Ready to Ship
Before we ship parts back to you, we do a thorough quality check to make sure that everything is show quality.
Throughout the motorcycle restoration process, we stay in contact with you, the owner, as if you were right next door. We'll regularly send photos by email so you know what your parts look like and what progress is being made.
Whether you have one motorcycle part that needs to be repaired, or an entire bike that has to be restored, Precision Motorcycle Painting will deliver professional results that will make your bike look like it just rolled off the factory floor.
---
Precision Motorcycle Painting, Inc.
51751 Emmons Road | South Bend, IN 46637 | (574) 298-2199
admin@PrecisionMotorcyclePainting.com
Shop Our Ebay Store
http://www.ebay.com/usr/mcglothlen2007precisionmotorcyclepainting
---