1970 Triumph Bonneville T-120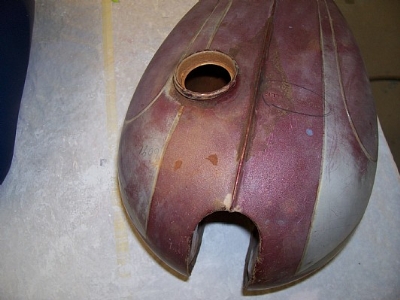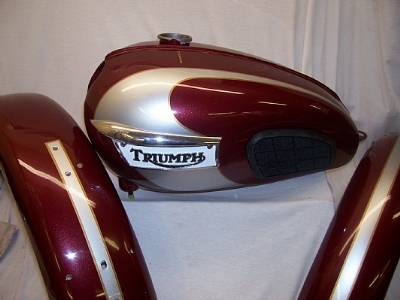 (Before)
This tank came to us from frank Del Monte owner of Arizona British bikes. He is doing a frame off restoration for a customer and we are providing the paint. The bike was in storage for 27 years. Looking bad.
(After)
This is the finished product. I hope frank and his customer like it. We think they will. Frank owns Arizona British bikes and is the founder of the international Norton owners association. We can't wait to ship these parts back to him so he can finish the bike.
When our customers ask us if it is worth it to paint their motorcycles we respond by telling them "If your motorcycle is going to be worth top dollar, it needs an original looking paint job that is professionally done". There are a lot of paint jobs going on motorcycles that are actually hurting their value more than helping it. The motorcycle pictured will bring top dollar at any show or auction.